Guillotine Blades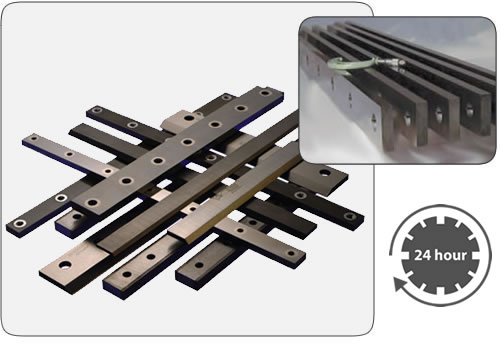 Guillotine blades are a range of standard and specially manufactured guillotine blades
These guillotine blades are for machines such as:
Adira, Amada, CMU, Safan, Guifil, Promecam, Kingsland, Durmazlar, Durma, Ermak, Ermaksan, Edwards Pearson, Morgan Rushworth, Rico, Shemach, Jean Perrot, Dener, K & B, Cressex, AFM, Ajail, Mebusa, Haco, Dener, Warcom, Gasparini, Imal, Mecos, Megobal, Megoform, Atlantic, CR Electronic, Baykal, Jordi, Elga, YSD, Toyokoki, Carter, Mantech
Bronx, Pearson, Cincinnati, SMT, Rhodes, Rushworth, Kinghorn, Haco, LVD, Durmazlar, Ermaksan. Morgan Rushworth, Jean Perrot, Edwards, Mengele, Scottish Machine Tools, SMT, Pacific, Stanko, Massey, British Clearing, Vickers, Barnes, H.J.O., Hugh Smith, Hammerle, Gotends, Omag, Colly, Dener, Darley, Pullmax, Ursviken, Baykal, Jordi, Kleen, Hydrabend, Komatsu, Ingalls, Toyokoki, Voest Alpine, Mantech
LVD, Trumpf, Edwards Pearson, Bystronic, Wila, Beyeler, Darley, Pullmax, Ursviken, EHT, Weinbrenner
Guillotine blades are manufactured from High carbon high chrome tool steel.
Guillotine Blades can be made to suit any make of machine up to 6000mm in one length.
In order to quote we need to know:
The blade sizes e.g. 50mm x 20mm x 3100mm.
The number of holes & size e.g. 16 off M12 tapped.
The number of cutting edges on blades e.g. Two cutting edge top blade & four cutting edge bottom blade
24 Hour Re-grinding Services
Worn or damaged guillotine blades can often be reworked and resurfaced to save the expense of replacing them. To lessen downtime Ashmores can offer a blade 24 hour re-grinding service.
To request a quote for refurbishing your existing blades just send us a description of the blade, length and size.
You can use any of the following ways to send us your request:
UK Customers
Worldwide Customers